Home » News » DeSantis hits the road to help GOP hopefuls — and maybe his White House fortunes
DeSantis hits the road to help GOP hopefuls — and maybe his White House fortunes
By Amanda Caroline • August 21, 2022 • 61
---
Florida Gov. Ron DeSantis made little mention of Donald Trump while campaigning Friday for Doug Mastriano in Pennsylvania and J.D. Vance in Ohio.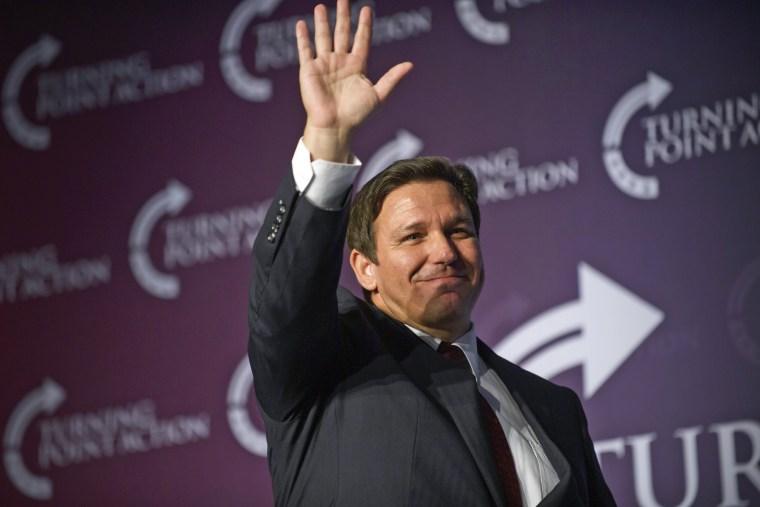 By
Henry J. Gomez
and
Allan Smith
GIRARD, Ohio — Florida Gov. Ron DeSantis ventured far from his home state Friday to campaign for two fellow Republicans running in critical races this fall.
While his speeches were ostensibly on behalf of the candidates there, they offered a window into what a DeSantis presidential bid — a frequently speculated possibility, especially if and when former President Donald Trump steps aside — could look like.
Inside packed ballrooms in Pittsburgh and here near Youngstown, Ohio, DeSantis rallied for Doug Mastriano, the Republican nominee for governor in Pennsylvania, and J.D. Vance, the GOP Senate hopeful in neighboring Ohio. In Pennsylvania, DeSantis put his spin on a famous World War II address by British Prime Minister Winston Churchill.
"We can't just stand idly by while woke ideology ravages every institution in our society," he said on the stage in Pittsburgh. "We must fight the woke in our schools. We must fight the woke in our businesses. We must fight the woke in government agencies. We can never, ever surrender to woke ideology."
The events — part of a tour sponsored by Turning Point Action, an emerging conservative grassroots juggernaut — are aimed at uniting the party behind a slate of right-wing candidates endorsed by Trump. All of the candidates DeSantis has backed advanced from bruising primaries and have faced backlash from some Republicans in their states; they include Kari Lake and Blake Masters, the GOP nominees for governor and senator in Arizona, whom DeSantis hit the stump for earlier this week.
"There's primaries, people support one candidate or another and that's fine. But once that's over, it's important that all Republicans get on board and support our governor candidates," DeSantis said in Pittsburgh, adding that it's "very important" for Republicans to also back Mehmet Oz, the GOP Senate nominee in Pennsylvania, who was absent from the rally. "And that means not just Republican voters. It means Republican organizations in Pennsylvania and throughout the country need to be invested in this race. They need to devote resources to this race."
A few hours later in Ohio, he praised Vance, a venture capitalist and the author of "Hillbilly Elegy," as "somebody that's going to be a leader and not just be a follower, and we need that in that swamp now more than ever."
That DeSantis is viewed as a unifying force in the Trump-centric GOP is notable, given that the governor until now has rarely campaigned outside his home state. As DeSantis' foray into the provinces beyond Florida further foreshadowed him as a presidential prospect, it also crystallized several realities for a Republican Party still largely Trump's to command.
While Trump's endorsement is influential, candidates like Mastriano and Vance reside more on the fringe of the GOP, delighting right-wing voters with their lies and conspiracy theories that the 2020 presidential election was rigged. DeSantis has largely avoided election-denying rhetoric, instead burnishing his conservative credentials with his largely hands-off leadership during the pandemic and his eagerness to make Florida a test lab for culture war legislation, such as signing an education bill that Democrats branded as anti-gay.
DeSantis straddles both sides of the Trump divide. He's a legacy of Trump, whose endorsement propelled him in a 2018 primary for governor that he otherwise likely would have lost. But he's also a bridge to a new era in which Trump-fatigued voters might want to move on.
"He's arguably the second most popular Republican in America right now," said Corry Bliss, a national GOP strategist who advised a Vance rival in Ohio's Senate primary, adding that issues DeSantis has focused on in Florida "are key issues in races all across the country, especially governor's races."
DeSantis dwelled little on Trump in his Friday speeches, which for the most part stuck to a script. At both stops he complained that President Joe Biden has overturned many of Trump's initiatives. He also briefly railed against the FBI's search of Trump's Mar-a-Lago resort last week in Florida. In between talking up his record as governor, he played up his local ties. His father is from the Pittsburgh area, his mother from Youngstown.
"If you threw a dart at the map of Florida, you would run into some yinzers very quickly down there," DeSantis said in Pittsburgh, using the famed local colloquialism.
DeSantis spent most of his time in both states talking up his handling of the pandemic, legislation he's pursued to curtail what can be taught in schools and efforts to ferret out voter fraud in his state.
"We didn't just sit idly by hoping that issues didn't come on our desk," he said. "We went on offense in the state of Florida. We made sure that we were getting in front of key issues and delivering victories for the state of Florida."
DeSantis also talked up his administration's battle with Disney over legislation that limited how gender identity and sexual orientation can be discussed in school. He decried "gender ideology" and what he called a "a big euphemism, gender-affirming care for minors." Mainstream health professionals say that care for transgender youth is essential to saving lives by reducing the already high levels of depression and suicide.
https://new.c.mi.com/tr/post/11350/REPELIS_Dragon_Ball_Super_Pahlawan_Super_2022_Pel%C3%AD

https://new.c.mi.com/tr/post/11355/Ver_Pel%C3%ADcula_Dragon_Ball_Super_Super_Hero_2022_Onl

https://new.c.mi.com/tr/post/11360/Watch_Dragon_Ball_Super_Super_Hero_2022_Full_Free_

https://new.c.mi.com/tr/post/11414/%F0%9D%90%96a%F0%9D%90%93ch_Dragon_Ball_Super_Super_Hero_%F0%9D%90%85u%F0%9D%90%8B%F0%9D%90%8B_%F0%9D%90%8C%F0%9D%90%8Ev

https://new.c.mi.com/tr/post/11365/Watch123%F0%9D%90%8Covies_Prey_2022_Full_%F0%9D%97%A0ovie_Now_Availabl

https://new.c.mi.com/tr/post/11306/Watch_Top_GunMaverick_2022_Full_streaming_online_F

https://new.c.mi.com/tr/post/11311/%F0%9D%90%96atch_The_Invitation_%F0%9D%90%8Enline_2022_Full_%F0%9D%90%8Covie_%F0%9D%90%85r

https://new.c.mi.com/tr/post/11323/%F0%9D%90%96atch_Bullet_Train_2022_%F0%9D%90%8Enline_%F0%9D%90%85ree_Online

https://new.c.mi.com/tr/post/11328/%F0%9D%90%96atch_One_Piece_Film_Red_%F0%9D%90%8Enline_2022_Full_%F0%9D%90%8Covie

https://new.c.mi.com/tr/post/11348/Watch_Beast_2022_Full_Free_English_Movie_In_Online
https://dailybusinesspost.com/desantis-hits-the-road-to-help-gop-hopefuls-and-maybe-his-white-house-fortunes/
https://soap2days.tv/blog/desantis-hits-the-road-to-help-gop-hopefuls-and-maybe-his-white-house-fortunes/
Recent Posts
Entertainment
1 month ago - By Amanda Caroline
Entertainment
1 month ago - By Amanda Caroline
Entertainment
1 month ago - By Amanda Caroline
Entertainment
1 month ago - By Amanda Caroline
Entertainment
7 months ago - By Amanda Caroline
News
7 months ago - By Amanda Caroline