Home » Entertainment » Mahsa Amini: Women take headscarves off in protest at funeral
Mahsa Amini: Women take headscarves off in protest at funeral
By Amanda Caroline • September 18, 2022 • 21
---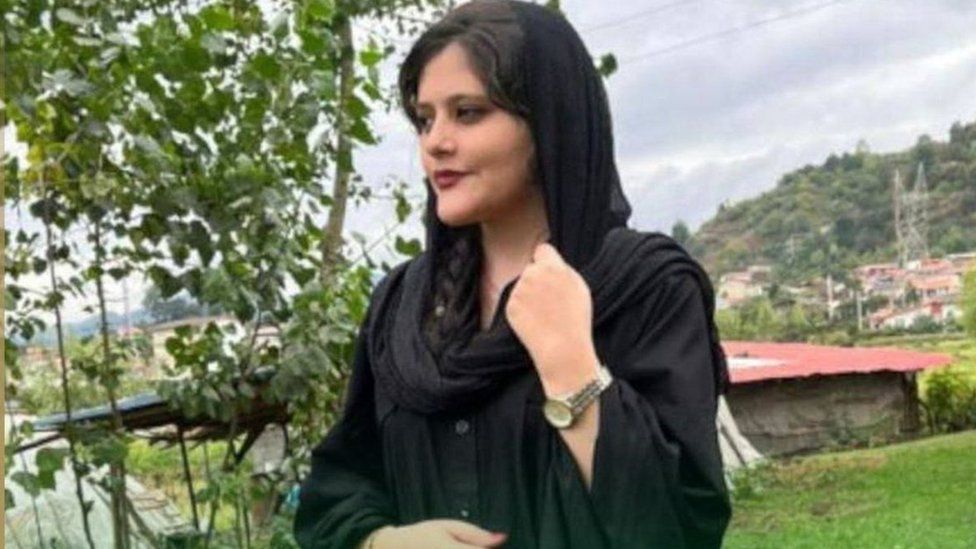 Protests have broken out at the funeral of a woman who died after being arrested by Iran's morality police.
Mahsa Amini, 22, died on Friday, days after eyewitnesses said she was beaten in a police van in Tehran - allegations denied by police.
Some women at the ceremony reportedly removed their headscarves in protest at the compulsory wearing of hijabs.
The funeral took place in Ms Amini's hometown, Saqez, in the western province of Kurdistan.
According to videos published on social media, locals gathered very early in the morning to prevent Iranian security forces rushing through the burial in secret to avoid protests.
Reports suggested that some angry protesters marched toward the local governor's office to protest about the death. According to videos received and verified by the BBC Persian Service, the security forces opened fire on protesters.
There were also reports of injuries and arrests. In videos published on Twitter, security forces can be seen guarding the governor's office and arresting protesters trying to get close to the building.
A picture of Ms Amini's gravestone was published on social media. It reads: "You didn't die. Your name will be a code [rallying call]."
Ms Amini was arrested on Tuesday by the morality police for allegedly not complying with the strict dress code on head coverings.
According to eyewitnesses, she was beaten while inside a police van and slipped into a coma later.
Iranian police denied the allegations, saying she had "suffered a sudden heart failure".
Ebrahim Raisi, Iran's hardline president, has asked the ministry of the interior to launch an investigation into the death.
Kasra Hospital in Northern Tehran said in a statement that Ms Amini was admitted on 13 September showing "no vital signs".
The statement was later removed from the hospital's social media after hardline social media accounts accused hospital staff of being "anti-regime agents".
Iranian TV also aired CCTV footage of Ms Amini under arrest. Human rights activists accused state TV of censoring the footage to create a false story.
According to Netblocks, a watchdog organization that monitors cybersecurity and internet governance, the internet connection has been disrupted in various locations in Iran since news of Ms Amini's death came out, including in the capital, Tehran, and Saqez.
Many users said they could not upload videos on Instagram or send content over WhatsApp.
Iranian state-controlled Sharq newspaper reported that Tehran's very low internet speed disrupted the stock market on Saturday.
Since the 1979 Islamic revolution in Iran, women have been legally required to wear modest "Islamic" clothing. In practice, this means women must wear a chador, a full-body cloak, or a headscarf and a manteau (overcoat) that covers their arms.
In recent years, Iran has seen several campaigns against the compulsory hijab, but a crackdown by Iran's morality police on women accused of not complying with the dress code has caused opponents of the policy to call for action.
Recently, the head of Iran's judiciary, Gholamhossein Mohseni-Ejeie, suggested that foreign powers are behind the campaign, instructing intelligence agencies to find the "hands behind the naked veil".
Earlier in the summer, President Raisi also promised to crack down on the "promotion of organized corruption in the Islamic society", directly referring to the campaign.
In recent months, Iranian state TV has showed televised confessions of women arrested for not following the strict dress code.