Home » News » Prince Harry to stand vigil at Queen's coffin in military uniform
Prince Harry to stand vigil at Queen's coffin in military uniform
By Amanda Caroline • September 17, 2022 • 26
---
The Queen's grandchildren, including the Prince of Wales and the Duke of Sussex, will stand vigil around her coffin this evening as she lies in state in Westminster Hall.
At King Charles' request, Prince Harry will wear military uniform, for the first time since 2020.
Prince Harry has worn civilian clothes at public events since the Queen died.
On Friday evening, the Queen's children, including the King, stood guard for about 10 minutes.
As they left the hall, members of the public applauded them.
The grandchildren's vigil is expected to last around 15 minutes.
The King's two sons will be joined by Peter Phillips, Zara Tindall, Princesses Beatrice and Eugenie, Lady Louise Windsor, and James, Viscount Severn.
Prince Harry has not been seen in military uniform since stepping back as a working royal in 2020.
He served two tours in Afghanistan as part of the Army. He now lives in California with his wife Meghan and their two children.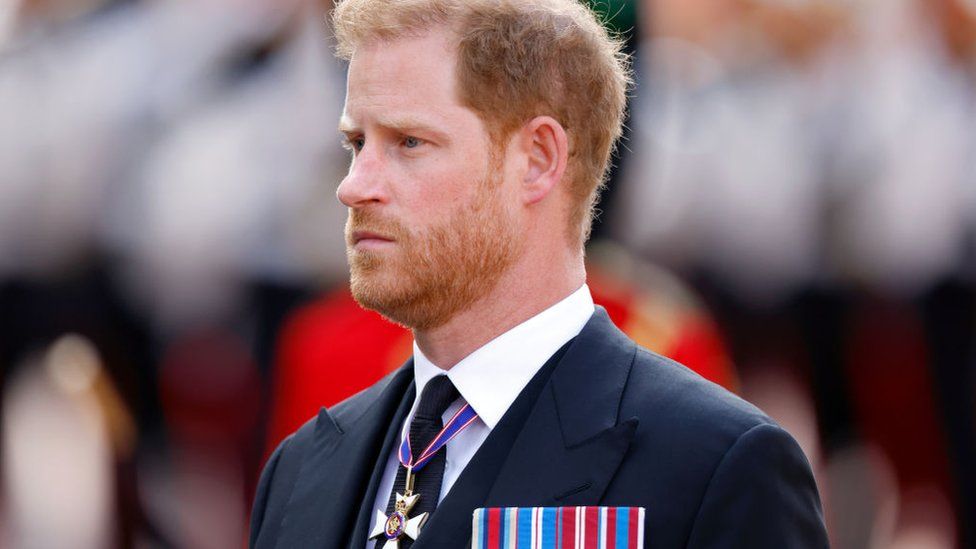 Prince Andrew was also allowed to wear his military uniform as he stood guard on Friday. The 62-year-old stepped down as a working royal in 2019, after a Newsnight interview about his relationship with the late sex offender Jeffrey Epstein.
The prince was later stripped of his military titles.
Before the vigil, the Queen's youngest child, Prince Edward, thanked the public for their support.
"We have been overwhelmed by the tide of emotion that has engulfed us and the sheer number of people who have gone out of their way to express their own love, admiration and respect to such a very special and unique person who was always there for us," he said.
The Queen will lie in state at Westminster Hall until her funeral on Monday. The queue to see the coffin stretches as far as Southwark Park. Officials have said if the park reaches capacity, entry will be paused.
At the park, there is a queue for wristbands and to join the queue proper. Further along, an LED-display warns people of how long they should expect to wait. Many are anticipating a long stay, wearing parkas, hats and big jumpers.
At 15:45 BST on Saturday, the government website said the waiting time was now up to 13 hours.
Anyone hoping to pay their respects has until 06:30 BST on Monday when the lying-in-state will end.
Organisers have warned the queue will be closed well before this so that people do not join the line and fail to reach Westminster Hall in time.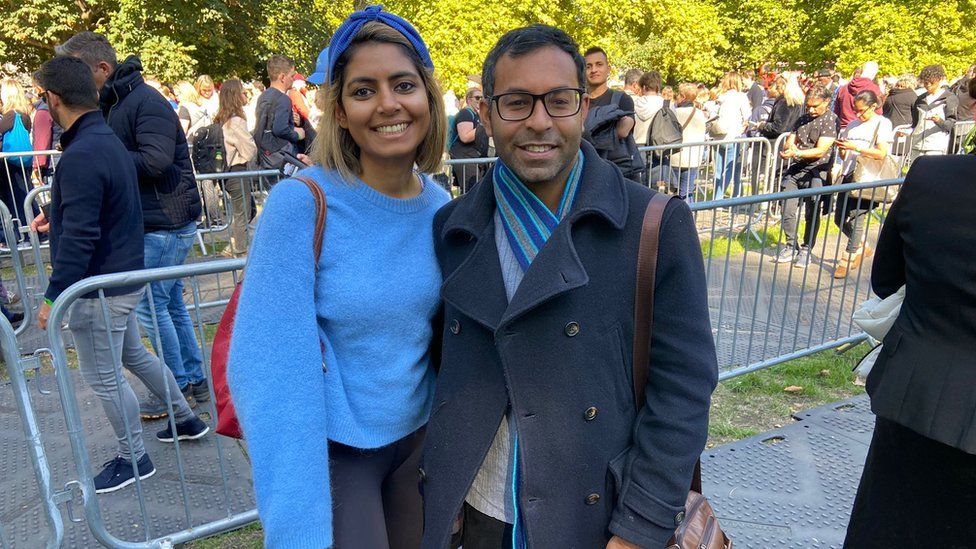 Foreign dignitaries are travelling to London ahead of Monday's funeral, which will be one of the biggest diplomatic events of recent years, with some 500 heads of state and other dignitaries expected to attend.
Australian Prime Minister Anthony Albanese laid flowers in Green Park, central London, before meeting King Charles at Buckingham Palace on Saturday. Mr Albanese said it was a "great honour" to represent Australia and commemorate "a life well-lived".
Meanwhile, King Charles is back in London, having completed a tour of the UK's four nations.
On Saturday the King met the heads of the armed forces at Buckingham Palace and visited the Metropolitan Police's headquarters, New Scotland Yard.
He then went to Lambeth Bridge, alongside Prince William, to shake hands and greet those queuing for the lying-in-state. He is meeting world leaders this afternoon.
A senior Metropolitan Police officer described the Queen's funeral as "the largest single policing event [the force] has ever undertaken".
Deputy Assistant Commissioner Stuart Cundy said the "hugely complex" operation surpasses the London 2012 Olympics - which saw up to 10,000 police officers on duty each day.
Events, moments of reflection and public screenings of the funeral are also taking place across the UK this weekend, outside London.
In Blackpool, the tower illuminations - which were changed to red, white and blue for the period of mourning - will be switched off at 20:00 on Sunday, when a national one-minute silence will take place.
Recent Posts
News
51 minutes ago - By Amanda Caroline
News
2 hours ago - By Amanda Caroline
News
3 hours ago - By Amanda Caroline
News
5 hours ago - By Amanda Caroline
News
6 hours ago - By Amanda Caroline
News
6 hours ago - By Amanda Caroline