Home » News » Protests, drafting mistakes and an exodus: Putin's mobilization off to chaotic start
Protests, drafting mistakes and an exodus: Putin's mobilization off to chaotic start
By Amanda Caroline • September 26, 2022 • 44
---
See Russian men bussed away to fight in Putin's war
Russia's "partial mobilization" for its war in Ukraine is off to a chaotic start amid protests, drafting mistakes and an exodus of citizens fleeing Russia, as the Kremlin tightens rules around evading military orders.
Some residents in Russia's Far East Sakha Republic were conscripted "by mistake" despite not being eligible for mobilization, such as fathers of underage children, according to a local leader.
"All who were mobilized by mistake must be returned back. This work has already begun," the republic's head Aisen Nikolaev said in a Telegram post, following a meeting on the presidential decree on partial mobilization
Two senior lawmakers in Russia acknowledged the issues Sunday, saying the mobilization should be carried out "in accordance with the law" and lamenting reports of "erroneous incidents of mobilizing citizens."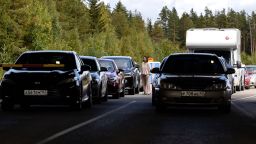 'I don't want to die for someone else's ambitions': Men across Russia face mobilization
"Such extremes are absolutely unacceptable. And, in my opinion, the harsh reaction we are seeing in society is deserved," Valentina Matviyenko, the speaker of Russia's Federation Council, said in a post on Telegram.
In a direct address to Russia's regional governors, Matviyenko said they were "fully responsible for carrying out mobilization campaigns" in "full and absolute compliance with the announced criteria."
Vyacheslav Volodin, the chairman of the State Duma, Russia's lower house of parliament, echoed Matviyenko's calls for due diligence, adding, "If a mistake is made, it must be corrected."
Meanwhile, videos circulating on Russian social media appear to reveal the tensions, sadness and confusion that the draft – which began after a Wednesday announcement – has sparked, with scenes of families saying emotional goodbyes and others of recruits arguing about being called up.
One video from Friday appears to show police and National Guard memcbers engaged in scuffles with a crowd, as drafted men board a bus in the Omsk region of Russia's Siberia.
Russian President Vladimir Putin on Wednesday significantly raised the stakes of his assault on Ukraine for ordinary Russians, with the announcement of an immediate "partial mobilization" in a bid to reinforce his faltering invasion following Ukrainian gains.
The mobilization would only affect Russians with previous military experience, according to Defense Minister Sergei Shoigu, who said 300,000 reservists would be called up. However, the decree itself gives much broader terms, sowing fears among Russians of a wider draft in the future.
Activist groups, such as Free Buryatia Foundation, have said ethnic minorities in Russia are being disproportionately mobilized. CNN has geolocated videos of some of these men being mobilized in Russia's Far East regions.
Resistance 'will grow'
The mobilization announcement sparked anti-war demonstrations across the country, which were swiftly cracked down on by police. At least 1,472 protesters have been detained in dozens of cities across Russia as of Saturday, according to the independent protest monitoring group OVD-Info.
It's also sparked an exodus from Russia as military-age men flee the country rather than risk being conscripted, with video footage showing long lines of traffic at land border crossings into several neighboring countries and surging airfares and sold out flights in recent days.
Janis Laizans/Reuters
More than 8,500 Russians traveled into neighboring Finland on Saturday by land, according to Finnish Border Guard official Matti Pitkäniitty. The figure represented a 62% increase on the previous Saturday, he tweeted. Nearly 4,200 Russians exited Finland to Russia, he added.
https://www.iamtn-network.org/profile-1/123-movies-watch-one-piece-film-red-2022-hd/profile

https://www.dezignator.com/profile-1/signs-of-love-2022-fullmovie-streaming-online/profile

https://vk.com/@748711043-cuevana-3ver-one-piece-film-red-2022-pelicula-completa-onlin

https://vk.com/@748711043-avatar

https://www.xing.com/events/ver-avatar-2022-online-latino-hd-4259157

https://www.emergefellowship.org/profile/avatar-2022-fullmovie-free-online-on-123movies/profile

https://vk.com/@748711043-watch-avatar-2022-fullmovie-free-online-on-123movies

https://documenter.getpostman.com/view/23162970/2s83S89BBx

https://documenter.getpostman.com/view/23162970/2s83S89BC2

https://documenter.getpostman.com/view/23162970/2s83S89BLn

https://zh.ayachujo.com/profile-1/avatar-fullmovie/profile

https://www.xing.com/events/cuevana2-ver-avatar-el-sentido-del-agua-2022-online-gratis-4259173

https://documenter.getpostman.com/view/23162970/2s83S89WbX

http://dandi.alboompro.com/portfolio/avatar/1070040-ver-avatar-2022-online-latino-en-hd

http://dandi.alboompro.com/portfolio/avatar/1070041-no-title
https://dailybusinesspost.com/protests-drafting-mistakes-and-an-exodus-putins-mobilization-off-to-chaotic-start/
https://soap2days.gg/blog/protests-drafting-mistakes-and-an-exodus-putin-s-mobilization-off-to-chaotic-start-2/